CHILDREN IN NEED - THIS FRIDAY
CHILDREN IN NEED - THIS FRIDAY
13 November 2023 (by Joanne Swift (j.swift))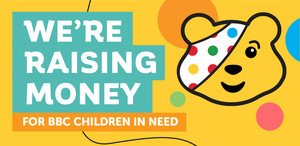 We wanted to thank all of those who came to school in odd socks today to support Anti-Bullying week.
Please remember that it's dress up again this Friday when children can come in anything spotty for Children in Need! The most spotty/creative fancy dress will be judged by school council and one lucky child will receive a prize per year group.
We would also like to remind you that you can pay a voluntary contribution of £1, if you are able to, to your child's class teacher and this will be collected, counted and sent off to the Children in Need charity.
We are also running an out of school competition (20p per entry). We would like to ask children to design/draw their own spotty animal- this could be spotty whale, dog or even a new animal completely! The entry can be emailed in to the relevant year group email or brought into school with the 20p contribution been given to the class teacher. There will be one winner per year group who will receive a small prize. All entries need to be in school by Friday morning in order to be judged.
Thank you