Foundation Stage Information 2020/2021
Dear Parents/Carers,
We are delighted that your child will be starting full time school with us at Kings Oak Primary Learning Centre and we send a very warm welcome to all our new families. We appreciate that starting school is such an important and special time for you and your child and we would like to do everything we can to prepare and support you between now and your child starting school in the Autumn term. Under normal circumstances, each year, we follow a transition process. This involves a home visit to introduce ourselves and meet your child and family, a transition meeting with your child's nursery or childminder, followed by a series of transition visits into school before the summer holiday commences. Due to the current uncertain times we will be unable to offer any transition visits into school until September. Home visits and transition days will take place after the summer holidays, so please bear in mind that your child will not attend full time schooling immediately in September.

In the meantime, so that we can have regular contact with our new families and update you as soon as we possibly can, we would like to, with your permission, create an online learning journal for your child. At Kings Oak we use an online learning journal called Tapestry to record your child's learning. This will allow you to see any observations, pictures and videos that we have made of your child in the learning environment. Additionally we will be using Tapestry to provide updates about transition as well as uploading videos such as the ones you see on this page. It is a great way for us to keep in touch with you but also for you to get in touch with us. I have attached the Tapestry Agreement Form at the bottom of the page, if you haven't done so already it is essential this is filled in and returned to school as soon as possible.
We know that you will have loads more questions about our school and our Foundation Stage unit so we have created a PowerPoint that should give you all of the information you will need which you can find by scrolling further down this page. If there are any unanswered questions please do not hesitate to get in touch with us either by phone or at "foundation@kingsoakplc.org.uk" and we will endeavour to reply as soon as possible.
We look forward to welcoming you to Kings Oak and working together as your child begins their exciting learning journey at 'big school'.
Mrs M Smith - Foundation Stage Leader
Below you will find all the information you need to know for Foundation 1 and 2.
Foundation Stage 2
How and where to drop off your child
PowerPoint of Information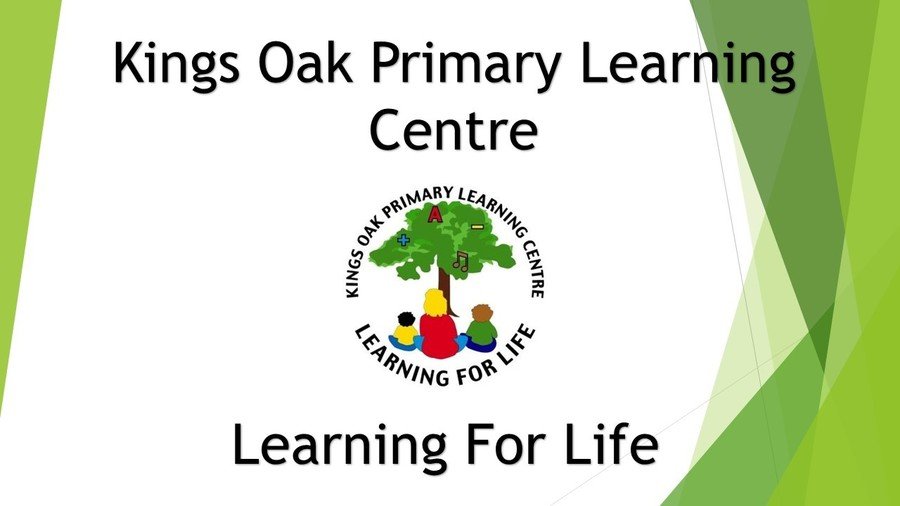 Take a Tour of our Environment!
Mrs Smith's Classroom Tour
Mr Lovatt's Classroom Tour
Take a tour of our classroom Nursery setting