Hair Accessories & Jewellery Notice
Hair Accessories & Jewellery Notice
18 September 2019 (by Helen Wright (helenw))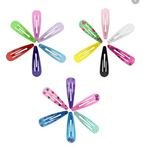 We ask our children to come to school wearing a uniform for many reasons, not least that it teaches students to dress smartly and take pride in their appearance. Perhaps most importantly, a uniform means students don't have to worry about peer pressure when it comes to their clothes.
We appreciate that some of our children enjoy wearing various accessories in their hair but recently these have been inappropriate for school. We have seen various unicorn horns (up to 10 inch tall), mice, cats and rabbit ears and bows as big as children's heads to name a few.
We ask that you support us in asking your children not to wear these items in school. We are happy to allow simple headbands and small bows and ribbons but children will be asked to remove anything larger deemed to be unsuitable. We will be updating our uniform policy to incorporate this request.
JEWELLERY
On health and safety grounds we do not allow children to wear jewellery in our school. However, pupils with pierced ears may wear one pair of small simple stud earrings, not sleepers/hoops. Pupils must be able to remove these independently in order that they can take part in P.E. Pupils planning to have their ears pierced should do so in the first week of the summer holidays, in order that they can heal before they return to school.
Thank you