JUBILEE CELEBRATION
JUBILEE CELEBRATION
9 June 2022 (by Joanne Swift (j.swift))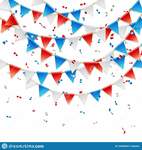 Please be reminded that tomorrow will be a very special day in school to celebrate the Platinum Jubilee. Children can come to school wearing red, white and blue. These clothes should be suitable for play as the day will be packed with fun activities. Everything happening in school is free of charge to the children, already paid for by school.
There will be no hot lunch tomorrow as we are having a picnic on the field. Children should order a ham, cheese or tuna sandwich (£2.09 unless entitled to free school meals) or bring a packed lunch.
Please remember that the gates will be opening just before 2.30pm to collect the children to enjoy some time together on the field and playground. Please bring some change with you if you can as there will be a few stalls including refreshments, ice cream, face paints, hair and beauty bar, our legendary tombola, games and activities all available at a small charge after 2.30pm.
Don't rush off as there's sure to be lots of laughs watching the staff assault course relay which will start at around 3.00pm. The competitiveness of our teams is outrageous and the banter is already flowing. Please bring the children along to cheer on their teachers – an event not to be missed.
Thank you as always for your support.