Notice of Barnsley Local Authority Ofsted SEND Inspection
Notice of Barnsley Local Authority Ofsted SEND Inspection
17 September 2021 (by Helen Wright (helenw))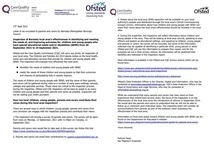 We have been advised by Barnsley Metropolitan Borough Council that inspection of Barnsley local area's effectiveness in identifying and meeting the needs of and improving outcomes for, children and young people who have special educational needs and/or disabilities (SEND) from 20 September 2021 to 24 September 2021.
Ofsted and the Care Quality Commission (CQC) will carry out jointly, an inspection of your local area. The Children and Families Act 2014 places duties on the local health, social care, and education services that provide for children and young people with SEND. The inspection will evaluate how effectively the local area:

- identifies the needs of children and young people with SEND
- meets the needs of these children and young people so that their outcomes and chances of participating fully in society improve.

The views of children and young people with SEND, and the views of their parents and carers will be gathered during visits to a number of early years settings, schools, colleges and specialist services. These views are critical to the inspection process. During the inspection, Ofsted and CQC inspectors will be keen to speak to as many children and young people and their parents and carers as possible. Inspectors will not be visiting your child's provision.

How can local children, young people, parents and carers contribute their views during this local area inspection?
There are several ways in which children, young people, parents and carers from your provision can engage with the inspection process and contribute their views:

1. The inspection will include a survey of parents and carers. The survey will be open from noon on Monday, 13 September 2021 until 11:59 pm on Tuesday, 21 September 2021. Parents and carers who would like to take part in this survey can follow this link:

https://www.smartsurvey.co.uk/s/BarnsleyLASENDInspection/

2. Parents and carers can email their contributions to Lasend.support@ofsted.gov.uk
For more information please read the attached letter or view the image and your contribution would be greatly appreciated.
Thank you.
Share this: