Christmas in school
Christmas in school
19 November 2020 (by Joanne Swift (j.swift))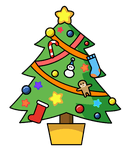 This is a very difficult time as we are all trying to give the children a magical Christmas while living with COVID. We are disappointed that a lot of our school traditions such as nativities and the Christmas Fayre have had to be cancelled but we will make sure that the children still enjoy a Christmassy experience at school on the run up to the holidays.
We ask for your help in supporting a few small changes that we are having to make this year in order to keep us all as safe as possible. These are:
CHRISTMAS CARDS; Sadly, children can't hand out loads of Christmas cards to their friends this year. If they would like to, we suggest that they send one card addressed to the whole class and the teacher will provide a place in the classroom to keep them. We ask that these are handed in by the latest Friday 4th December and then the teacher can open them all with the class around Monday 7th December and then pin them up around the classroom.
GIFTS; We know some of you like to bring small gifts at Christmas and sweets and cakes on birthdays. We must stress that homemade items are not allowed at this time. We can except items that are individually wrapped that can be stored for a few days before handing out. Thank you.
CHRISTMAS MESSAGES; Teachers are planning with their classes to record a message to send out to wish you all a Merry Christmas. This message will be posted out via our website, App and Facebook page. We are currently working through our data collection sheets to check which children do not currently have parental permission to appear on these forms of media. You may receive a call from school if you have not granted permission to check whether you would like your child to be involved in this project.
Thank you and take care.