FOUNDATION 1 & 2
Foundation 2
Hi Everyone,
I hope you are all keeping safe and well with your families at home. We will be posting a weekly timetable of learning on here each Sunday for the following week. The majority of learning will be found on our Tapestry app which you should all have access to already! If you need any help accessing Tapestry, please email us on foundation@kingsoakplc.org.uk and we will help you get started. We are looking forward to seeing all the learning you are doing at home.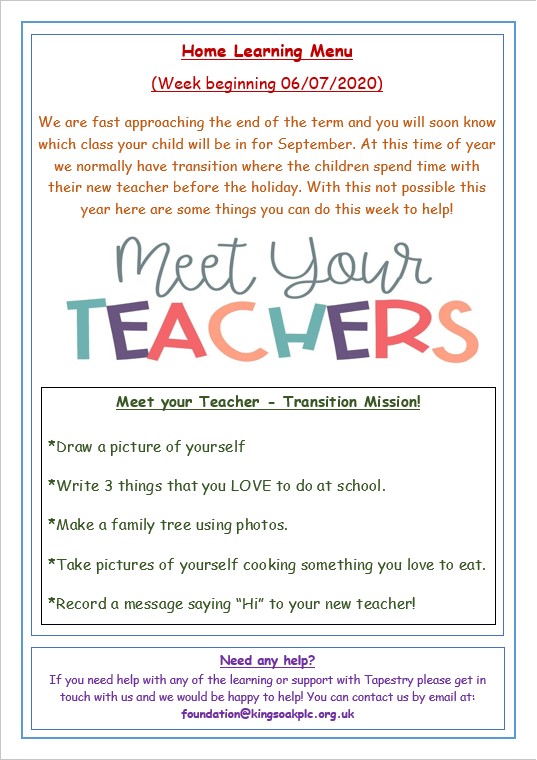 Mrs Smith, Mrs Mulcahy and Mr Lovatt
There is a Word document down below if you want to download the weekly timetable to stick up somewhere in your house:
| Name | |
| --- | --- |
| Week 1 home learning (Week beginning 20-04-2020).docx | Download |
| Week 2 home learning (Week beginning 27-04-2020).docx | Download |
| Week 3 home learning (Week beginning 04-05-2020).docx | Download |
| Week 4 home learning (Week beginning 11-05-2020).docx | Download |
| Week 5 home learning (Week beginning 18-05-2020).docx | Download |
| Week 6 (half term) home learning (Week beginning 25-05-2020).docx | Download |
| Week 7 home learning (Week beginning 01-06-2020).docx | Download |
| Week 8 home learning (Week beginning 08-06-2020).docx | Download |
| Week 9 home learning (Week beginning 15-06-2020).docx | Download |
Showing 1-9 of 9
Foundation 1
Hello to all the youngest children at Kings Oak. I hope you are all well and enjoying spending time at home with your family. Have a look at the home learning ideas below. If you have already enjoyed completing some of these then I will be adding more ideas and activities to keep you busy over the coming weeks.
Spell Your Name Workout
Hi again! Just a quick reminder to keep practising writing your name. Remember you have laminates and dry wipe pens in your book bags. Also, try painting your name or writing it in chalk. How many different ways can you think of to write your name? Try learning your name and exercising at the same time. If you have a short first name you could even practise your second name to keep really fit. Hopefully, the weather is going to be warmer over the next few days, so this would be great fun in your outside space. Challenge your adult to workout to their name too! Follow the link below to check this out (adults have a look at the site first as it does have a lot of adverts and pop ups). Alternatively, download the PDF the password is kids.
Crawling Caterpillar
Hi everyone! I hope you all had a fantastic Easter. Keep checking this page for more activities to keep you busy at home. This idea is so cute, but you will need an adult to help with the folding and cutting. Try adding numbers to the segments of your caterpillar or counting the number of moves it takes to crawl across a surface like your dinner table. Have fun with this one!
I had to add this link to one our favourite stories. I wonder if your caterpillar will be as hungry?
How to Make Silly Soup
This activity will encourage children to identify initial sounds. Is does take practise, so don't worry if this is a little tricky at first. It's a fun game and listening to adults talk about the sounds is just as important as the children getting it right first time. All the children know how to make Silly Soup and we sing the song regularly in Nursery. All you will need is a mixing bowl and a spoon. Simply choose a letter (s a t p i n are good ones to begin with) and go on a hunt to fill your bowl with objects beginning with the sound. There is a song that must be sung to make your soup silly.
Sing the first part of the song to the tune of 'Pop Goes the Weasel':
I'm making lots of silly soup
I'm making soup that's silly
I'm going to cook it in the fridge
To make it nice and chilly
In goes… a sock
As you fill your bowl keep listing the objects you have collected. We've added a sock, a sticker, some salt etc. Try using a different letter each week or repeating familiar letters for practise. Let the children guide you. Hope you enjoy your soup!
Super Simple Shape Sorting
Here is an idea that should be simple to set up at home. If you don't have any tape then try using large cut out shapes to make the template, simply use what you have to hand. This activity could be completed indoors or outdoors, or both. You could talk about where you found most shapes, how many more did you find or where did you find the biggest/smallest. There are some more questions to help on the website if you scroll down the page. Have fun and don't forget to put some pictures on Tapestry.
Nature Paint Brushes
Here's a lovely idea for creating some original art work. Try making paint brushes out of twigs and other plants that you might find on a walk or around your outdoor space. What can the children paint with their brushes? This could be something abstract or they could try and paint a picture of a rainbow or their family. It's entirely up to you! I look forward to seeing your amazing artwork.
Shadow Tracing
We are having lovely weather at the moment and this is a fun idea involving shadows. Pick a toy and play with it's shadow. You could have a pretend dinosaur fight or build a shadow shape using building blocks. The opportunities are endless! Try drawing round a simple shadow to make a picture. This will need practise, but is a great way of developing fine motor skills (please try to encourage a firm tripod grip). Have fun and enjoy this beautiful weather!
Maths Games
This link is for simple Maths games to play with Uno cards. Don't worry if you don't have any, just write numbers on pieces of paper or card. Basically, the children are recognising and ordering numbers (don't worry about the addition and subtraction games at this stage). Also, practise counting anything you can around the house. This could be the number of steps on your staircase, spoons in the drawer or counting the number of times you can hop on one leg. Encourage correct ordering of numbers and accurate counting. This only needs to be up to five initially and then to ten.
Here are some of our favourite online counting games:
Phase One Phonics
Here are some ideas to help with sound discrimination. Sounds can be made using all sorts of different things. These can be sounds in the environment or letter sounds. Identifying sounds and talking about them is a really important step in learning to read and write. As the children become better at this they will be able to play games like I-Spy and begin to blend sounds orally e.g. c-a-t is cat. Keep coming back to these activities as practise will make perfect! Thank you for your support.
Nursery Rhymes
Please try to share some of these well known nursery rhymes. Encourage your child to join in with repetitive phrases such as, 'Roll over, roll over.' and move in an appropriate way (e.g. rock gently to the beat of 'Row, Row, Row your Boat', march to the beat of 'The Grand Old Duke of York', or trot to the beat of 'Horsie, Horsie'). Most importantly have fun playing with rhyme.
Shape, Space and Measure
Here are a couple of fun ideas to help you and your child investigate and talk about shape, space and measure. Don't worry if you don't have play dough, just mix flour and water for a suitable alternative. However, it will only last a day as it doesn't contain salt.
Playing and Learning Begins at Home
Why not try and make your own balance to compare the weight of objects.
Nature Art
Here are some simple ideas that can be easily created using natural materials found outside. These could be collected from your garden or on a walk around the local area.
Ideas for a Rainy Day
Here are some simple ideas for indoor play activities. Hopefully it won't be raining for too long!
Welcome Back
It has been wonderful to welcome some of our Nursery children back into school this week. For those who are still learning from home, I will be adding information and ideas to share the learning that has been taking place each week.
This week we have been talking about some of the things we have been doing during lock down and sharing some of the photos and videos that have been uploaded on Tapestry. I shared with the children that I have just bought two kittens, Westley (black) and Buttercup. This got us thinking about why baby cats are called kittens and we wanted to find out about other baby animals. Have a look at the matching activity below to find out what baby animals are called.
Week beginning 15th June
Hi again. This week we have been thinking about actions and identifying what someone is doing. Use the simple action cards below to ask questions. Can you find the child who is reading? How do you know they are swimming. What is this child doing? We have also been looking at shapes and playing shape dominoes. Talk about the number of sides, corners and edges while matching the shapes and having fun. Don't forget to make a Father's Day card. Here is a picture of the cards we have made in Nursery. Perhaps you could make one like it. Have a great weekend!
Week Beginning 22nd June
This week we have been enjoying ourselves in the Forest School. We had a go at making nature weavings. Together we looked at the size and shape of the leaves and flowers. We talked about the different colours and also rubbed some lavender so that we could smell the scent on our hands. The children were shown how to weave their natural objects by placing them under and over rubber bands stretched around a cardboard frame. Do you like our weavings? Follow the link to find out more.
We have also been thinking about the initial sounds in words and have been playing I-spy using objects beginning with the letters s a t p i n. Have a look at the Phase One Phonics ideas I posted earlier. These are activities that can be played every day if you want to. Have fun in the sun and enjoy your weaving!
Week beginning 29th June
This week we have been learning about positional language. Use the Puppy PowerPoint to talk about where the puppy is. Use words like in front, behind, in, underneath, on top of etc. Try asking your child to place a favourite teddy somewhere e.g. put your teddy under your pillow.
Week Beginning 6th July
Comparative language has been the focus this week in Nursery. We have been using words like: longest, shortest, tallest, biggest. Click on the link to play a comparison game.