Class information 2020/2021
Where possible we have kept classes together so that children have familiar friends to come back to and an adult they know so they don't feel anxious about their return. If they do have any worries trusted adults will support your children through their transition. Teachers will be introducing themselves to their classes through videos on the website and can't wait to meet your children and build that positive relationship.
We are delighted to bring you our welcome to our classes 2020/2021 video from our teachers. Foundation will be posting their own information via Tapestry.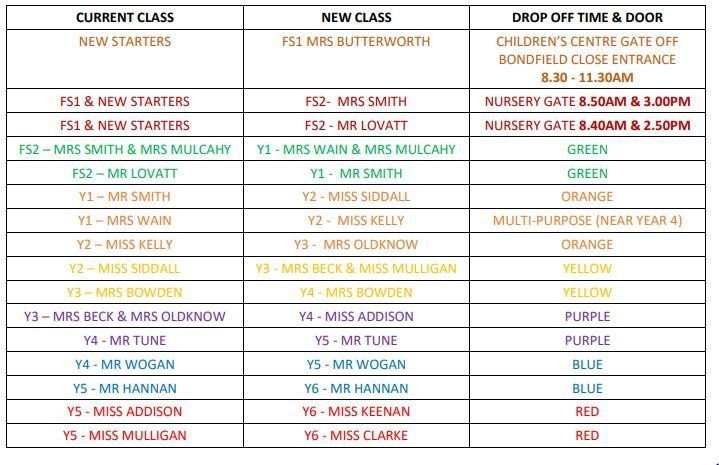 To help with social distancing we need to extend the drop off times at school. We considered staggered start times but as many children have siblings in school we don't want people having to hang around on the playground. Therefore we have extended the drop off times giving a 20 minute window, with exception to Foundation who need
to arrive/leave at the times stated above.
You can now drop children off from 8:40am to 9:00am
We cannot have children arriving late to school so if you are one of our families who tend to often e running a few mintues late, can we suggest that you aim for 8:40am so that even if you arrive 10/15 minutes later than your target time you are still arriving on time.
If you are running late you will need to ring the office to arrange for someone to collect your child from the gate and escort them to class. This is far from ideal as we are trying to avoid people moving around school and coming into contact with as few people as possible. We understand that occasional they may be a very good reason that people are running late but we would really appreciate your understanding and adherence to this necessary measure.
Parents will not be allowed in the building without a prior appointment. This includes the cloakrooms so you need to encourage children to say goodbye to you on the playground and watch them enter the building on their own.

Any children who are old enough/mature enough to come onto the playground on their own should do so,

particularly in Years 5 and 6. Even if you walk your children to school, they may be able to walk across the playground on their own.

Please don't loiter by the gates and follow any signage around school. We all know by now what social d

istancing is and we don't know exactly what the government advice will be when we return in September. We will be asking that you following the measures in place at that time and respect each other's personal space. Anyone contravening the safety measures in place on our return to school will be asked not to come onto school premises again.

Trim trail: Can we remind everyone that it is more important than ever that children do not play on the trim

trial unless given permission by a member of staff. Please do not allow children to play on it before or after school as we cannot risk that opportunity of cross contamination.
Below is a letter from the Headteacher regarding school returning in September. We look forward to seeing you soon and have a lovely summer break.