Parents/carers of children in Year 1 - King and Queen for the day - 12th April 2019
Parents/carers of children in Year 1 - King and Queen for the day - 12th April 2019
27 March 2019 (by Helen Wright (HelenW))
Year 1 – King and Queen for the day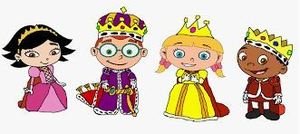 Dear parent/carers
We are planning an exciting day in school as part of our KS1 topic ' Kings and Queens' to support the learning around our royal history on Friday, 12th April 2019.
We would like to invite children to come to school dressed up as a king, queen, knight or princess. You could even come to school as a dragon or court jester! Please don't go to the expense of buying a costume if you don't already have one as we love to see homemade designs and children have been busy in class making their own crowns for the day.
We will also be having a banquet-style lunch and would be grateful if you could order a grab-a-bag on the day or send a packed lunch.
Thank you
Mrs Butterworth and Mr Smith